We recently had an investor buy a house just down the street from us and after months of seeing dumpsters and tradespeople come and go, I was so excited to see the listing photos ahead of the open house.
Family room.   Gorgeous.  Kitchen.  Beautiful.  Master Bath.  Whaaaaaat???
Up until this point I was thrilled to see a beautifully done rehab.  The investors had done a phenomenal job updating the home but that came to a screeching halt when I got to that first bathroom. And my disappointment continued with the remaining baths. 
Obviously that awful pinky beige tile was on clearance and sadly, these investors created three brand new, dated bathrooms. In my neighborhood!
I live on a beautiful tree lined street full of gorgeous old Victorians. It's such a cute street that Country Time lemonade filmed a commercial one of my neighbor's charming front porches. 
This is the land of beadboard and wainscoting and a travertine look tile is just wrong on so many levels. Honestly, in the current trend of fresh colors and gray, there are so many better options that won't break your overall budget.
I realize that when you are flipping a house, you are making choices based on budget and not necessarily thinking about trends.  But choosing a travertine look tile can ultimately cost you money.  
First, that look isn't what most buyers are pinning on Pinterest or saving on their Houzz ideaboards.  It is a dated look and who wants to buy a brand new bathroom that they want to rip out?  No one.
No doubt it will make a comeback but every time you have surplus from one job, your chance of being able to use it again is slim to none because stone lots change all the time.
Come on y'all let's save you money and stop the growing pile of tile "you might use someday".  Either that or you can start selling your excess as trivets on Etsy!
Ok, yeah, doesn't even look great as a trivet…
By going with more timeless, classic tile choices you will save money and be able to use your surplus tile much easier across other flips.  And here's the best news, your most classic tile is also among your least expensive and appeals to buyers across the board. Sweet!
This is the look that buyers are going for today…
This is like the little black dress or, for the men out there, the khakis of bathrooms–timeless, classic and will never go out of style.
Subway tile just makes me smile ; ) and it should make you smile too.
It is so versatile and will go with any zany color scheme that a buyer wants to add to it.  See how beautifully it works with soft, quiet colors above and deep, rich moody colors below?
I absolutely love this black hexagon floor but I wouldn't put it in a master bath or hall bath.  The dark floor will show everything so this is perfect for a powder room.  And isn't that sink is amazing?!
And here the subway tile works beautifully with turquoise.
So, hopefully I have made my case for white wall tile in most situations.  Think about it, your other fixed elements are toilets, sinks and possibly tubs and the easiest color to match if each of those comes from a different vendor is…..White!!
Now what about your flooring choices.  This is not the time to get crazy…
No, just no.  I know that you wouldn't do that anyway, just had to share the…ahem…creativity.
Here are some of my favorite floor inspirations…This beautiful bathroom below is one of my team's projects and is highlighted throughout my new book (seems so weird to say that ; )  "Sell Your House In 72 Hours".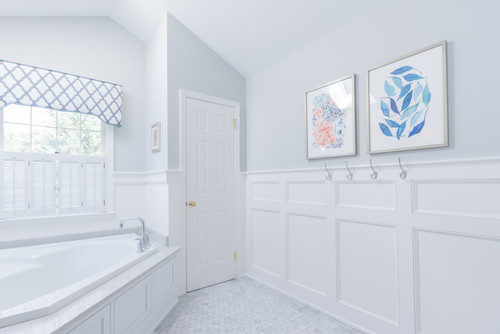 Shocker, I absolutely love hexagon tile, especially in shades of white and gray.  This was a bathroom that we redesigned two years ago but I have no doubt that it will stand the test of time.  I also have a minor obsession with anything in the herringbone pattern (below).  For our kitchen renovation–which will be in another post–I tried and tried to get herringbone in there somewhere and was finally able to incorporate it in a wallcovering.
I even feel that the cement tiles that are popular right now, in the right color and pattern, are classic.  They have been around for centuries in parts of Europe and the Middle East.
And there is always the beautiful basketweave pattern…
And one that you definitely wouldn't think about but it's a total classic is penny tile.  Look at how fabulous this looks!
Here are my favorite classic tiles to create classic, modern looks on an investors–or anyone's–budget!  (Click the numbered links below to take you to the product page)
1 / 2 / 3 / 4 / 5  /6 / 7 / 8 / 9 / 10
xo,