Photo by Ashlee Hall of PA Real Estate Photography
Have I told you lately that I am completely obsessed with brass?  Aged brass to be more precise.  If I never set eyes on another faux polished brass anything for the rest of my life, I will be super content.  But aged brass is a whole different story.  I'm not obsessed in the same way that I am with binge watching Breaking Bad and napping but it's up there!
The brass trend is now finally beginning to move from the design world into the mainstream which I am so happy about because it warms up the gray walls and gray everything that people are drawn to more and more.  And you can use it in your house too if you are getting ready to sell or flip very easily–with cabinet hardware!  I wouldn't use it on your oak cabinetry, but it works beautifully on dark stained or painted cabinets.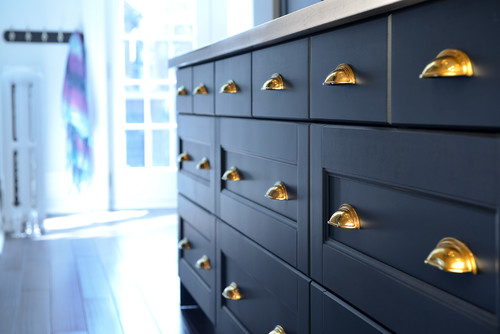 Or white cabinetry which is timeless and has been the number one seller according to the National Kitchen and Bath Association for 11 years (hint, hint investors!).
The nice thing about incorporating aged brass pulls and knobs into your cabinetry and vanity hardware is that is more like going on a first date for coffee rather than going for a 10-course Moroccan meal (delish, by the way!).  The commitment isn't so great that you or your buyer can't change it up when the trend passes.  But, I do encourage you to consider it now because it is a trend on the rise.
Because I am constantly online researching design and shopping for my investor clients, I do come across some great finds and I'm sharing some of those with you today. Here are some of my brass faves for under $10.  Enjoy!
1 • 2 •3 • 4 • 5 • 6 • 7  • 8 • 9 • 10 • 11
So where do you stand on the aged brass trend?  I'd love to hear your thoughts in the comment section below!