I never worry too much about the sad state of affairs in my powder room until we get ready to host a big holiday dinner.  So this time of year definitely gets me dreaming up ways to turn that little sad sack of a space into something fabulous.  And I am working on it…!  Woot!  Stay tuned for a post about that…
Today, though, I'm sharing inspiration for my sister's soon-to-be tricked out powder room and the links to find all of the deliciousness that we have uncovered along the way.
Because we are doing this on a budget, I thought you might like to see what you can achieve without breaking the bank or taking a single trip to Home Depot.  Not that there is anything wrong with that, but there is more out there than Home Depot and Lowe's, my friends!
Her powder room is like a little dollhouse bathroom at 5′ x 3′!  I have only done one other bathroom about as small as hers which you can see throughout my new book , "Sell Your House in 72 Hours: The Art of Real Estate Styling".
My sister lives on the Connecticut shoreline in the cutest, coolest neighborhood, Black Rock.  They even have their own adorable lighthouse so her design style is definitely inspired by the vibe and colors of the coast.
The first photo that I sent to her was this bathroom:
I mean, seriously, how cute is this?!  That sink!  Swoon!  Sadly, it is too big for my sister's bathroom but because I really like you ; ) I'm sharing it with you in case it is just perfect for your bathroom, mudroom or laundry room.  We installed this in a client's laundry room and it just makes me smile! (Click the images below to take you to the product pages)  
Note to self:  this sink requires plumbing coming out of the wall so it shouldn't be on an exterior wall (ie a wall that could have a window on it)
Fun fact: when I was searching for this sink, I found out that Wayfair sells a "prison sink".  Yikes!
Ok, faucets now for this little beauty…Remember, when you are on a budget, the least expensive finish to choose is polished chrome.
Since my sister's bathroom is too narrow for this kind of sink–she has slightly more than 10″–we decided to go in the direction of doing a vessel sink and placing it on a reclaimed wood counter.  Here is the inspiration that we used for that…
We found this sweet little sink that is waif-ish enough to fit.
Oh, and by the way, if you are looking for teeny, tiny mini-me kind of sinks, the two brands that have some nice options are La Cava and Barclay.  Although, they are a little more expensive than what our budget would allow for.
Here is a nice one from Barclay:
Here are a couple other great looking sinks at amazing price points (gotta love Wayfair!):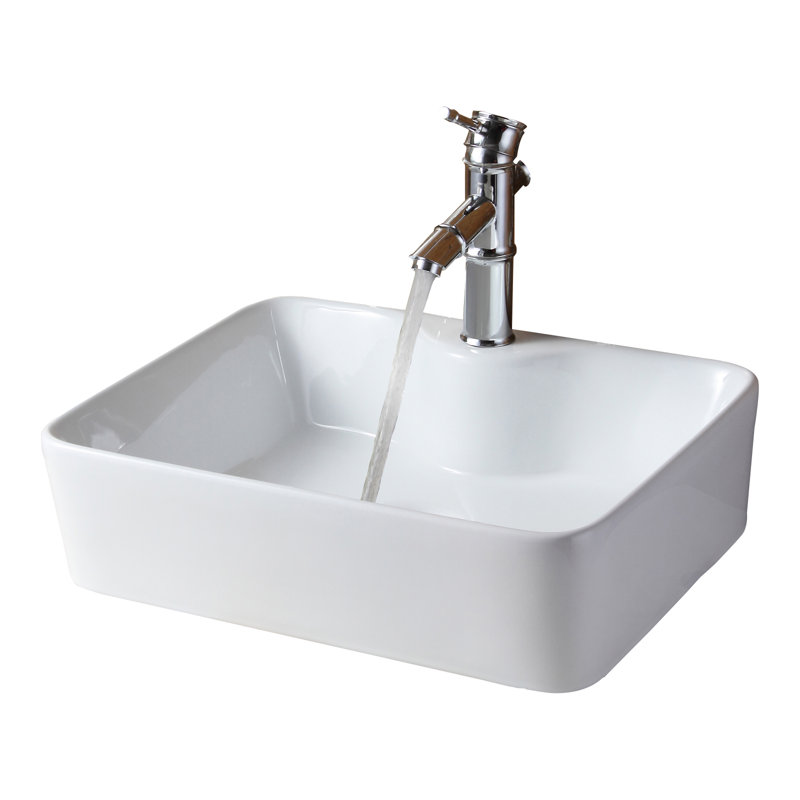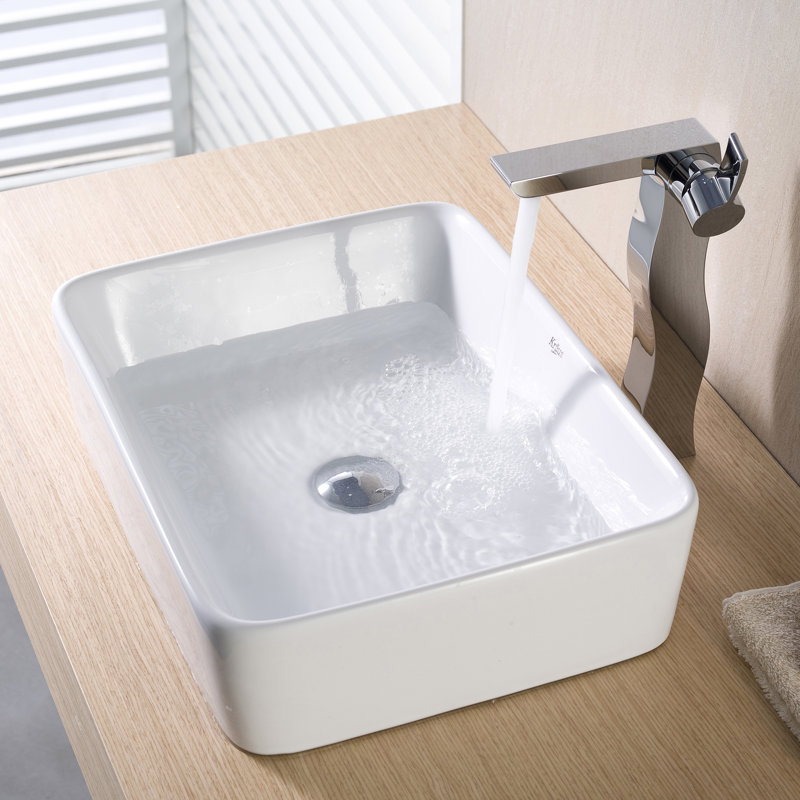 And one of my absolute favorites: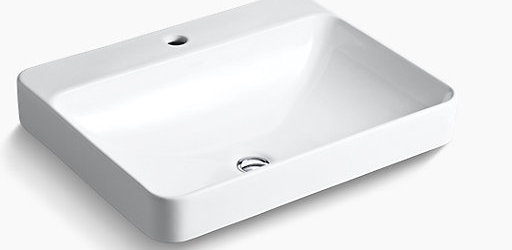 We used this sink in the bathroom of our Donna Drive project (which I am hoping to have professional photos of soon!) on top of a gorgeous custom vanity that we designed:
I have pinned a boatload of great faucets here for you to check out here to update just about any configuration and style you might need.
Now for that cute mirror…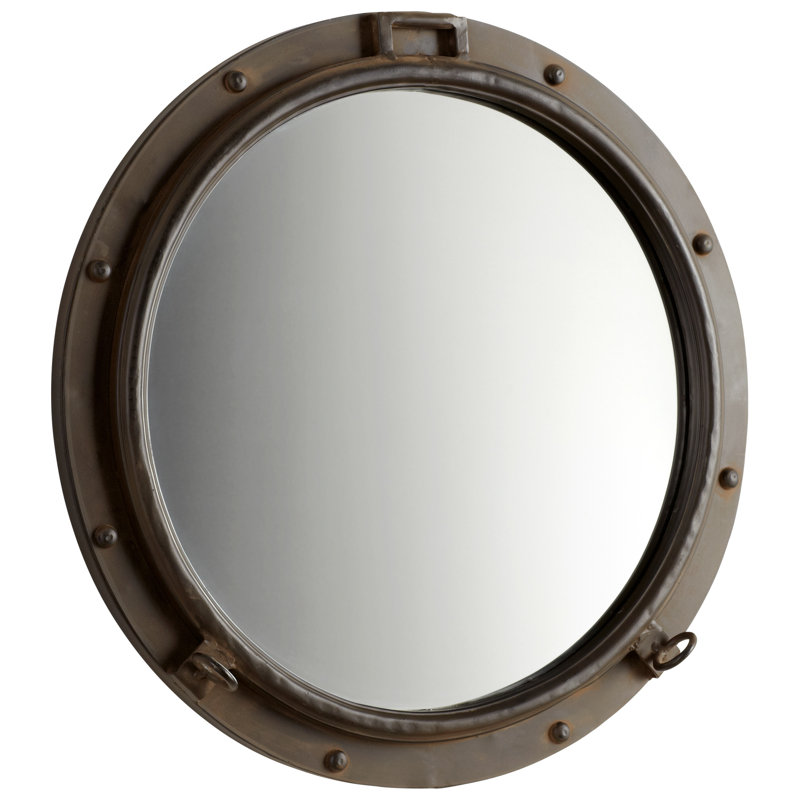 And how about a light fixture that comes to under $20 including the light bulb?!
So that takes care of the sink area…now onto the floor tile.
You could use a beautiful Montauk Black or Brazil Black slate if you wanted to splurge, but, oh wait…I just found Montauk Black for under $5/sq ft!!
Now, important to know when buying slate tile…
Slate comes in three different finishes:  polished, clefted and honed.
Polished will be shiny and not at all ideal for a bathroom.  Although in a powder room, you should be fine. Clefted is the natural state of slate that hasn't been smoothed so the surface will be uneven and bumpy.  This slate above is honed which has a matte finish that will have some grip to it so that would be the best choice in a bathroom.
Also, good to know…(because my goal is for you to be the most knowledgeable remodeling homeowner your contractor has ever seen!)
Slate must be sealed before grout is applied
You want to use sanded grout
Your grout lines/joints should be at least 1/8″ (you really can't use sanded grout with joints smaller than 1/8″)
With the larger field tile, your installation cost may be a little higher because it is trickier to level than those smaller tiles on a sheet.
---
All In The Details
---
1  /  2  /  3  /  4  /  5  /  6  /  7  /  8  /  9  /  10  /  11  /  12  /  13  /  14  /  15  /  16  /  17  /  18  /  19
xo,