So all y'all know that I'm a timeless, classic kind of girl but I have to tell you, since going to Nashville last year and then to Portland, Oregon over the summer I have been loving the mid-century, industrial look.  I guess coming from New England, it reminds me of the towns near where I grew up that were dotted with brick factory buildings along the many riverways that now house restaurants and businesses.
Fun fact:  cool people like Adam Sandler, Sarah Silverman and Seth Meyers all know exactly where this is and have probably passed it a million times–maybe even did some back to school shopping there.  Crazy how many funny people came from one highschool in teeny, tiny NH!
Even though I live in a victorian house, I have even been able to incorporate the industrial look into my choice of light fixtures–this is actually an easier and less expensive update than painting sometimes!  Especially the fixtures that are near the end of the post at less than $100 each!
In my son's bedroom redesign, we were inspired by our love of Maine (the mural from Anthropologie depicts Acadia National Park) and the freaking cold coziness of winter in the northeast.
His ceiling fixture is this crazy amazingness from PBkids (all of the images in this post are clickable and will take you to the product page):
We even incorporated the look into our kitchen lighting plan.  I was actually torn between several fixtures that could fall into the industrial category for over our island.  I have long loved the Hicks and Goodman fixtures from Visual Comfort–one of my favorite lighting lines–and was so happy that the size and scale of both would work for our island.
That reminds me, I am working on a post to help you know exactly how many and what size pendant lights go over your island so stay tuned!
Here is the Hicks: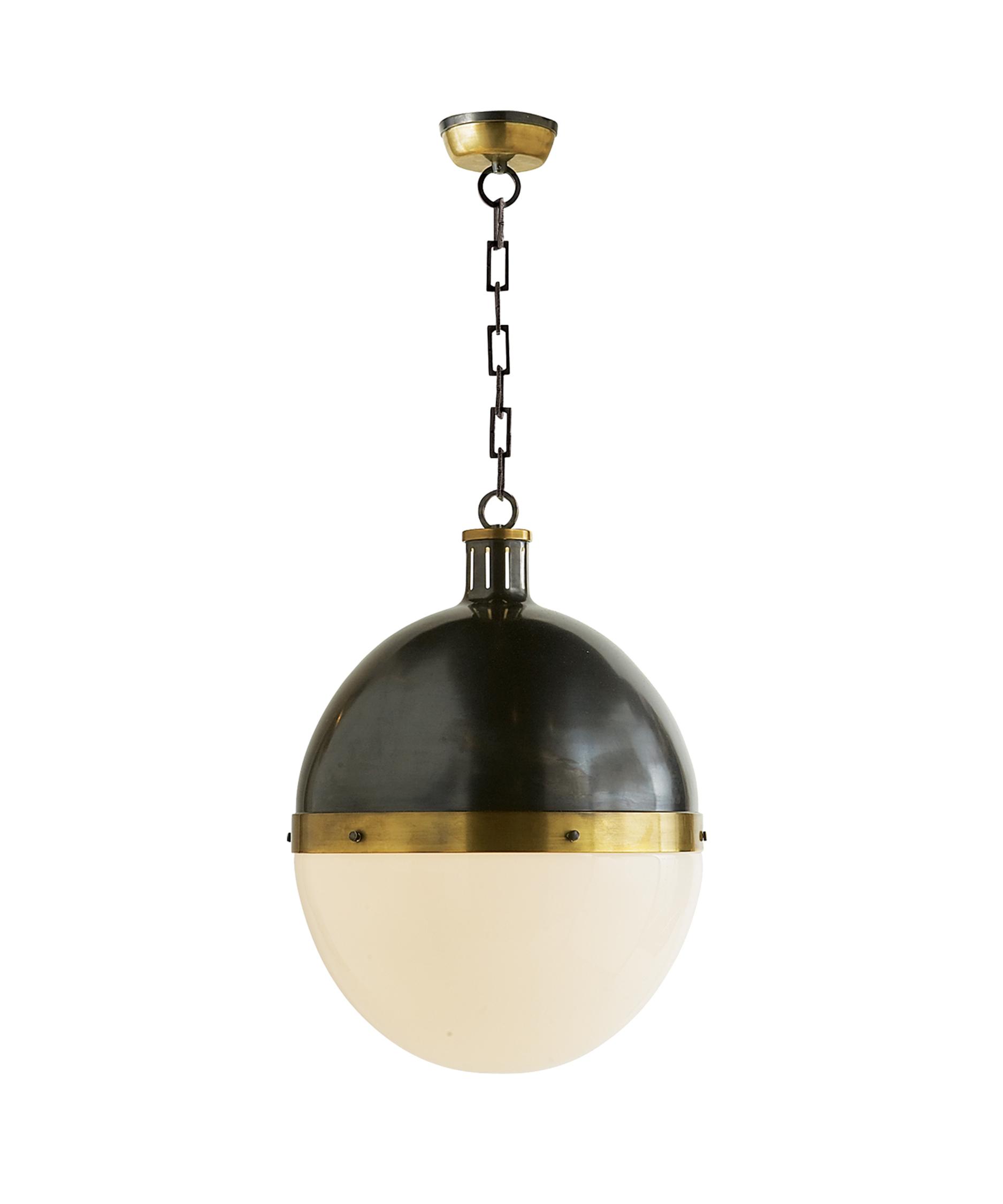 So pretty over an island…
Here is the Goodman:
Equally beautiful but I really, really wanted to go with the Hicks.  Ultimately, Fischer (my hubs) was not a fan of the Hicks so we went with the Goodman and I absolutely love them!
Excuse the poor image (I can tell you what will photograph well but can't take a beautiful photo to save my life!  That's why Ashlee Hall is my go-to girl for photography!)
Over our kitchen table, I went with my other lighting obsession.  The Morris Lantern by Suzanne Kasler for Visual Comfort.  This fixture literally makes me smile every morning when I come down my stairs.  I know it sounds dopey but it symbolizes wish fulfillment for me.  I have coveted this fixture for years and can't believe it's in my house!
But, I was also interested in a bunch of Hudson Valley fixtures (which are on sale at 1-800 Lighting for 20% off from now until 12/4/17).  This is also a gorgeous line of lighting.  Here are a few that I loved–again, click on the image to take you to the product page:
---
Oooh…a quick word on choosing the right size fixture for your room
---
Believe it or not, there are actually very easy formulas to use to choose the correct size fixture.  Woot!  This is an awesome thing to know when you go to shop for lighting online.
**Remember to always look at the dimensions of every pretty little thing you see online–you would be amazed at how often I have had clients order things on their own that were "way smaller/larger than they looked online"
Measure the room's length in feet
Measure the room's length in inches
Add those two numbers together
Change the ft to in at the end of that number
Ex.  A 12 ft x 13 ft room
12 ft + 13 ft = 25 ft
25 in
25″ in diameter is the size fixture that you need
For height of a fixture, the rule is that you need ideally 7 ft to walk under a fixture.  So for an 8 ft ceiling your fixture height can really only be 12 inches.
But…if you are placing that fixture over a table, there is a whole other set of rules.  Here is a great tool to use when you just don't feel like doing math that day…which for me is just about everyday!  Haha!
And, if you want more of these kinds of insider secrets, you can download my freebie Styling Guide here which is full of these little hacks.
Here is a round up of oodles more fun and inexpensive industrial light fixtures with the links to where to find all of it (this is literally my favorite part of these posts and I hope you love it too!)
1  /  2  /  3  /  4  /  5  /  6  /  7  /  8  /  9  /  10  /  11  /  12  /  13
ps–there are even more lights over on the Pinterest board.  Enjoy!
xo,